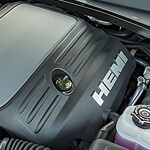 Chrysler 300 rides comfortably even on bumpy roads, thanks to its suspension and potent powertrains. Notably, the new machine carries three engine choices, all mating to a standard auto eight-speed transmission.
The base powertrain comprises a V6 3.6l engine, which delivers a horsepower of 292. However, this powertrain is more equipped in the 300 S model, making a horsepower of 300. Also, this trim adds on an engine option of a V8 5.7l, which churns out 363 horsepower. In addition, Chrysler 300 gets a front-wheel train as standard, while drivers seeking more can take the advanced all-wheel.
Chrysler 300 offers stability and comfort all over the cabin when it comes to handling, plus its brakes are ready to stop your vehicle anytime there is uncertainty. Fuel ranges differ with whether you are driving on an all-wheel or font wheel for the car lineup. Notably, the base engine delivers highway mpg of 27 on all-wheel, while it delivers 30 mpg on the front wheel. For the V6, highway mpg stands at 25pg, while it gets 16 in the city.