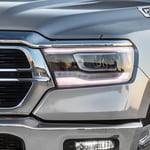 The 2020 Ram 1500 is a pickup truck that is designed to make it convenient for you to tow things around Clewiston. It can tow up to 12,750 pounds. Additionally, this truck has a variety of capability features that will make your drive more practical and enjoyable.
The Ram 1500 has a multifunctional tailgate, which has swing-away doors. This feature makes it a lot easier for you to access the bed for loading and unloading your items.
This new truck also has Active Air Dam. When the truck's speed gets near 30 miles per hour, the front air dam will automatically extend downward, helping to reduce drag. The Active Air Dam will also help reduce the amount of pollution that is emitted and will help improve fuel economy. You can give the Ram 1500 a test drive if you visit our dealership in Clewiston.