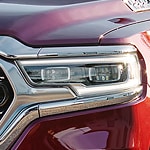 There's a higher level of freedom that comes with driving a Ram 1500. That's because it's a light-duty pickup truck that's versatile and accommodates many needs. If you require a truck for work or leisure activities, the Ram 1500 is a great way to go.
Adaptive LED Projector Headlamps is a feature in the Ram 1500 that's used under low-light conditions or when driving at night. This feature is incredibly helpful when driving around hills. It does a better job at illuminating roads.
Get an outstanding view of your surroundings while driving a Ram 1500 with the 360-Degree Surround View Camera. This feature is beneficial in different scenarios, such as parking and reversing.